STAFF APARTMENT HOTEL IN STOCKHOLM
Our apartment hotel is located in Slagsta/Norsborg, just south of Stockholm, and is a comfortable, newly built (2015) alternative for companies that prefer self-catering to expensive hotels. There are 53 apartments with 1-6 beds. The apartments are specially adapted to construction workers and other staff who work in teams on temporary projects.

Our apartment hotel is ideal for companies involved in the "Förbifart Stockholm" and "Slagsta Strand" projects, as it is located only minutes away from the work sites.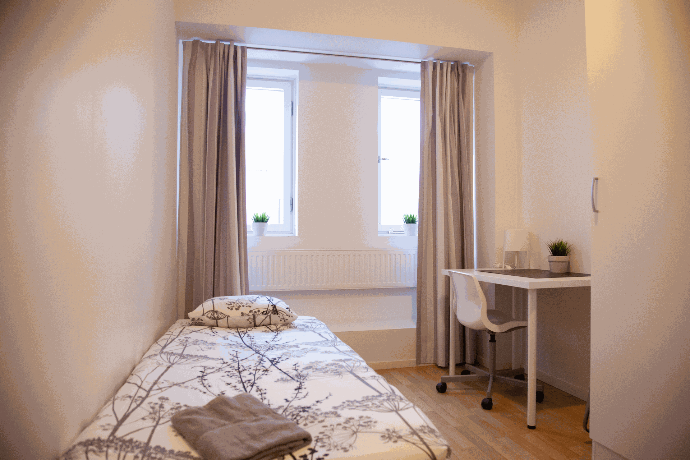 Apartment Hotel in Slagsta / Norsborg
Our apartment hotel is ideal for companies involved in the projects "Förbifart Stockholm" and "Slagsta Strand", as it is located only a few minutes away from the work sites. The apartments are also suitable for workers in other parts of Stockholm, thanks to its location next to the Fittja junction, you can access the Highway E6 / E20 in just a few minutes. Under the facility is a parking garage and you always get one free parking space per apartment.
We at Corporate Apartments have extensive experience of renting out apartments to construction workers. We understand the complexity behind large construction projects and the flexibility it requires. We always work to make it as smooth as possible, always trying to find new solutions to common problems. An example of this is our independent arrival service, which enable residents to arrive at any time of the day (or night), even on check-in the first day, and your staff will have immediate access to their apartments.
The Apartments
The apartments are of good standard with comfortable beds and a discreet decor. Everything you need for self-catering is in place. The kitchen has both fridge, freezer, oven, stove, microwave and kettle. Each apartment has its own washer and dryer in the bathroom. And cleaning equipment is available if you don't choose to order our cleaning service.
We offer apartments in different sizes, from single rooms to multi-room apartments with up to 6 beds. The apartments also have living areas adapted for the number of residents, with both sofa and dining table. Bed linen is included and everything is ready at your arrival; the beds have been made, and clean towels are in place.
All guests have free access to high-speed internet via WiFi, which makes it easy to stream movies or make video calls with the family back home. The TV can be used as a media station and it is easy to connect to a computer, for example, or use one of the built-in streaming apps in the TV.
The Surrounding Area
The area near the apartment hotel offers multiple restaurants, hardware stores, coffee shops, dry cleaning and a well-equipped gym. Within walking distance you will find both Fittja center, Alby center and Hallunda center. If you want to cook your own food, there are grocery stores just a few minutes walk away. The metro is also within walking distance and at the nearby lake Mälaren there is the swimming area Slagstabadet, a marina and the opportunity to go fishing.

The close proximity to the E4/E20 highway makes it easy to get to all parts of Stockholm. Approximate travel time by car is:

Stockholm city – 15 minutes
Älvsjö – 10 minutes
Liljeholmen – 15 minutes
Lidingö – 25 minutes
Kista – 25 minutes
Upplands Väsby – 30 minutes
Södertälje – 20 minutes
Nacka – 20 minutes
Märsta/Arlanda – 40 minutes
Uppsala – 1 hour
This is always included in the rent:

Heating, electricity, water and garbage collection
Furniture and fully equipped kitchen
Laundry machine and dryer

Smart TV and high-speed Wi-Fi
Parking and electronic locks with key cards

Staff accommodation for workers and managers
All our apartments for rent are specially adapted to suit staff in the construction and contracting industry, for both work teams and managers. We know the industry well and therefore we are aware of how difficult it can be to find good housing solutions for employees at another location during a project or other temporary assignment.
Whether you are staying for a shorter or longer period, we have affordable options for your company. Our company accommodations are always competitive compared to Swedish hostels and hotels.